ATARI ST
---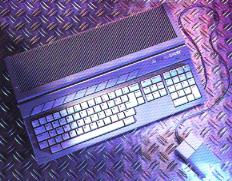 In July 1993 I bought an Atari 1040 STE. But I changed this machine soon for the same type but from a non-breakdown serie. For that computer I outfitted with like this:
operating memory 4 MB RAM
operating systems TOS 1.62 (G) and TOS 2.06 (CZ) in ROM
real time clock
internal FDD 3,5" HD
---
Later I scaled up my collection by acquiring an Atari 520 STM computer with this equipment:
operating memory 2,5 MB RAM
operating system TOS 1.00 (E) in ROM
external FDD 3,5" DD
---
For Atari ST computers I also own this hardware:
ACSI-SCSI convertor for hard drives
printer Epson Stylus Color 880 (parallel port)
printer Epson Stylus Color IIs (parallel port)
desk colour scanner Epson GT-9000 (parallel port + SCSI)
2 x 12" monochrome monitor Atari SM124
other utilities: SFD Tool, A/D D/A convertor, SGS Net, ...
---