*
Good way How to register NED PLAYER is to use '"Postal money order".
Some countries doesn't support it (USA)

*

Please don't register NED PLAYER through CyberSTrider anymore.If you did it in a past please inform me by email.
October 17th 2011:


Based on several requests I received earlier this year NED Player FREE registration is now available.

You can register your copy using following data:

name "FREE VERSION 2011"
key "106166640"

Or you can use this n_player.inf file.



NEWS in version 3.3 (9.10.2000):
completely rewritten MS ADPCM decoding into assembler (now it is much more faster)
direct from disk playing now support packed files (MS ADPCM, IMA ADMPCM)
some other small bugs removed
This is beta version. I have no time and FALCON. So I can't do serious testing. If you find any bug, especially in new features let me know.

NED Player is GEM sound player for ATARI STE/TT/FALCON (computers with DMA sound).

There exist two versions of NED PLAYER abreast. One is NORMAL for all computers above. The other one is FALCON version. There is added support for 16 bits sound.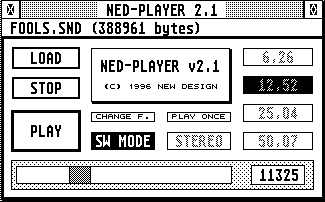 Features:
It runs as ACC, PRG or TTP
Direct from disk playing
Ability to change playing rate on a fly
Ability to play packed and 16 bits files
Never more 'NO MEMORY' alert
unsigned -> signed -> unsigned (CHANGE FORMAT)
Sound file information
Support of various File formats
AV protocol (VA_START, ...)
MultiTOS compatible
Keyboard commands
Shell parameters
Fast RAM support
FALCON only version
Others features of FALCON version:
16 bits DMA sound support

stereo/mono
FALCON + PC compatible frequency
Replaying modes and frequency:
| | |
| --- | --- |
| HW MODE | 6258, 12517, 25033, 50066 |
| SW MODE | 6755, 7351, 8345, 9338, 10332, 11325, 12517, 13509, 14701, 15497, 16689, 17483, 18675, 19868, 20662, 21854, 22649, 23841, 25033 |
| 16 bits | 7355, 8195, 8826, 9834, 11025, 12292, 14710, 16390, 17652, 19668, 22050, 24585, 29420, 32780, 44100, 49170 (FALCON only) |
Supported file formats:
SAM (ATARI 'STOS Maestro')
DVSM (ATARI Falcon 'WinRec')
SND, AU (Sun, Mac, NeXT)
WAV (PC)
AVR (ATARI)
HSN (ATARI 'CrazySound')
IFF (Amiga)
AIFF (Apple, Atari 'Cubase')
Data storage:
8/16 bits PCM
MS ADPCM (WAV)
4 bits mono DVI/IMA ADPCM (WAV)
8 bits A-law/mu-law (WAV, SND)
8 bits Delta Pack (DVSM)